Friday, January 07, 2005
Take Eleventy-Two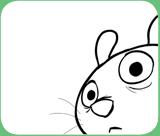 Check out the link below. I've tried hotlinking it, but everytime I do, all hell breaks loose, and I'm stuck with a blank post! Right, Miss Nobody? loveyoumeanit...

here's the link: http://www.albinoblacksheep.com/flash/bunny.php

Now - I defy you to:

A) tell me that f'ing bunny ain't the cutest...
B) get that f'ing song out of your head...
C) not send this link to a bunch of your friends...

Happy Friday, y'all!

PS - the camera comes out with me this weekend, so be afraid...be very afraid....

4 Comments:
Ha! Now I'm sure you'll be going through my site with a red pen...
By

Alexandrialeigh, at 11:56 AM
that was killing me! No clue what technical difficulties I was suffering, but damn!
By

Kickball Superstar, at 11:59 AM
Not only is that f*cking bunny the cutest and I know that song will be stuck in my head ALL DAY, but it also made me cry just a little. Quietly, to myself, but crying all the same. I can't stand to see a bunny in pain.
By

Kelly Love, at 12:25 PM
Well, if it's any consolation, I can't open and play your little bunny clip. On my new, sucky, work computer. So I just have to wait until I get home to see what the fuss is about, and I'm pouting.

Harrumph.
By

Alexandrialeigh, at 4:38 PM