Wednesday, October 20, 2004
Sack Panthers To Down Yagerbombs Tomorrow Night!
With but a few weeks remaining in the k-ball season, I thought I'd start the Smack Talk ball rolling with a guest appearance and opening salvo from my friend, my brother-in-arms, and the captain of the Sack Panthers, Bryan Raynor. Here's what he had to say about tonight's game. Listen - and learn....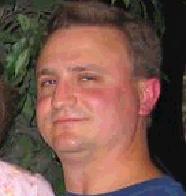 Bryan Raynor - Captain of the
Sack Panthers and President of
the Joey Lawrence Fan Club.
I just spent a weekend with my family, and boy howdy, am I tired. They said they were just coming to visit and see
the sights
, but that turned out to be a ruse. Apparently, they felt it necessary to stage an intervention to address my alleged "addiction" to
hard-core Internet pornography
. I mean, really -- does a library of thousands of images depicting the various and sundry combinations and permutations of man and woman (and occasionally a few more women and another man and maybe a marmoset) engaged in the act of love, with
Emmanuel Lewis'
face Photoshopped onto those of the participants, really constitute an "addiction?" That's not weird, is it? We've all engaged in a little bit of image manipulation involving the face of a former child star, right? I'm sure at least one of you has a hard drive full of
Skippy from "Family Ties"
as the saddle in a Reverse Cowgirl. Anyone...?
This week's opponent is the perennially misspelled Yagerbombers. These illiterate nincompoops have gone three seasons without realizing that everyone's favorite
Red Bull
additive is called
Jagermeister
(from the German for Soldier (Jager) and Master (Meister)). They've asked me to try to keep the game moving as quickly as possible, because they've got plans afterward -- they're all going to put on skirts and dangly earrings and head to an
Ashlee Simpson
show, and they don't want to miss the
opening act
. Let's oblige them by beating them like rental donkeys.
The game is at 6:30pm on Field A. An interesting fact about the history of Field A, gleaned from one of hundreds of
carriage tours
I endured with my parents this weekend: while the first shot of the War Between the States was fired from Fort Johnson, the second shot of that war was fired from Field A. A group of
drunk
cadets, and the "shot" consisted of said cadets opening a can labeled "Mixed Nuts" containing novelty practical joke spring snakes in the general direction of Fort Sumter, and then giggling. Still -- when you're sliding face-first into second base, remember, the dirt in your nostrils is rich with the loamy smell of history!
There are two weeks left. If we win out, we will finish above .500 for the first time in our franchise's storied history, with momentum on our side going into the playoffs. You know a kickball trophy would look great between the ribbon signifying your third place finish in the drag show at Club Pantheon and the autographed picture of you with your arm around Richard Dean Anderson, TV's
MacGuyver
.
So let's get to it.
-- Bryan
4 Comments:
One quick retort: the Yager Bombers bizarre, insatiable, and downright dangerous sexual habits are going to lead us to victory tomorrow. One of the great SNL skits, and a good link. Well done.
By

Anonymous, at 2:22 PM
That one and the Behind the Music skit are the two best! I need more cowbell!
By

Kickball Superstar, at 2:39 PM
I agree. Storytellers: Neil Diamond and Behind the Music: Blue Oyster Cult are the two best SNL skits of the last 10 years, if not all-time. Not shocking they both center around Ferrell.
By

Anonymous, at 3:27 PM
not just ferrell, but LOUD ferrell - the best! one of the worst skits, but funniest lines I've heard in a long time is, "I DRIVE A DODGE STRATUS!"
By

Kickball Superstar, at 3:37 PM