Monday, October 18, 2004
Kitten Killers - No Girls Allowed?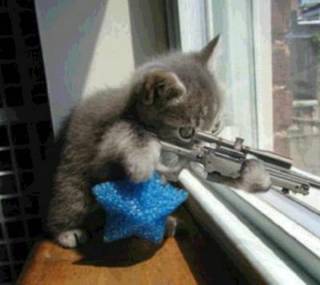 I know bunting is frowned upon, and there has been a lot written on
the subject
. But as much as we try to fight it, as much as I decry it, and as much as k-ballers pretend to dislike it, bunting - or "kitten killing" - works. I'd like to propose a
rule
change, however...
I think that only the dreaded "man-bunt" should be allowed. Sexist? Maybe. Stupid? Probably. Silly? You bet. But how much fun would it be knowing that when the ladies step up to the plate, they're gonna be kicking for the fences...everytime...
Just a thought...
2 Comments:
I feel that bunting should never be allowed, as I'm sure most people do, and that everyone should kick away each time. I also like the idea of only "man-bunting" being allowed, but I just don't see that feasibly working out. It should be everybody-or-nobody when it comes down to bunting.

It's a great thought though, I'd love to see the defensive shift for the girls "kicking for the fences".........
By

Anonymous, at 1:54 PM
I like the idea of "banning the bunt!" but I don't think it'll ever fly. It's too effective, even though it makes me see red every time a dude gets up there and emasculates himself...

There's actually an article in the Washington Post today on k-ball. It doesn't talk about bunting, but it does touch on how competitive some folks get. It's kinda my theory that it's the competitive people that encourage bunting. The folks out there just having fun, just get up there and boot the ball...

I will say this, though - how many kids bunted in kickball?...
By

Kickball Superstar, at 2:12 PM